---
***SPECIAL PRESENTATION***SPECIAL PRESENTATION***SPECIAL PRESENTATION***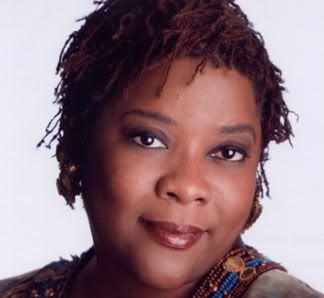 On Dec 4-6, 2009 at 9pm (Sunday 8pm)- Upright Cabaret invites you to celebrate love divine this holiday season with a rare solo cabaret appearance by the incomparable Broadway and Film star LORETTA DEVINE (Broadway: Dreamgirls (OBC), Waiting to Exhale, Boston Public) only at Upright Cabaret on Vermont, 1714 N. Vermont Ave, Los Angeles, CA 90027.

This unforgettable evening of original, standard and contemporary songs will lead you on a journey through the seasons of love. Find a love. Bring a love. Fall in love Devine!

NIGHT DEVINE: AN AUDIENCE WITH LORETTA DEVINE
Fri-Sun, Dec 4-6, 2009 at 9pm (8pm Sunday)
Tickets: $25 (www.uprightcabaret.com) or $30 at the door (if available)

Only at Upright Cabaret on Vermont!
1714 N. Vermont Ave, Los Angeles, CA 90046

For more info including tickets, showtimes and upcoming events, please visit: www.uprightcabaret.com

More about LORETTA:

Equally at home on stage or on screen, award-winning actress Loretta Devine has created some of the most memorable roles in theatre, film and television. Devine first captured national attention in the role of Lorrell, one of the three original "Dreamgirls" in Michael Bennett's classic award-winning Broadway musical of the same name. She followed that performance with a fiery portrayal of Lillian in Bob Fosse's critically acclaimed stage production"Big Deal." Subsequent work in George C. Wolfe's "Colored Museum" and "Lady Day at Emerson Bar and Grill," cemented Devine's status as one of the most talented and versatile stage actresses.

Film roles soon followed including a poignant turn as a single mother opposite Whitney Houston, Angela Bassett and Gregory Hines in "Waiting to Exhale" which earned her a NAACP Image Award for Best Supporting Actress. Devine also won an NAACP Image Award for Best Supporting Actress for her work in Penny Marshall's "The Preacher's Wife." Devine also received an IFP "Spirit" Award nomination for Best Actress for her work in "Women
Thou Art Loosed." Devine was featured in the Academy Award-winning film "Crash" and the hit movie of "Dreamgirls." Additional film credits include appearances in the successful
"Urban Legend" franchise, "I Am Sam" opposite Michelle Pfeiffer and Sean Pean, "Kingdom Come," "What Women Want," "Punks," "Hoodlums," "Down in the Delta" and "Stanley and Iris."
Devine also appeared in "Sticky Fingers," "Amos and Andrew," "The Breaks," "The Price of Kissing," "Lover Girl," "Class Act," "Living Large," "Caged Fear" and "Little Nikita" and "Dirty Laundry" Most recently Devine co-starred in "This Christmas" and "First Sunday" both of which opened Number 1 at the box office. Ms. Devine voiced the character of Delta the
chocolate brown toy poodle in "Beverly Hills Chihuahua" for Disney starring Drew Barymore.

Look for the upcoming 2010 release of Sony Screen Gems remake of "Death At A Funeral" with Chris Rock, Martin Lawrence and Danny Glover.

On television, Devine most recently was seen on the ABC series "Eli Stone"
as well as her recurring role as Adele on the hit medical drama series "Grey's Anatomy." She received three NAACP Image Awards for her role on David E. Kelly's Fox series "Boston Public."
Additional credits include series roles in "A Different World" and Lifetime Television's "Wild Card." Devine also provided the voice of Muriel Stubbs on the beloved animated series,
"The PJ's."

Devine graduated from the University of Houston and later received a Master of Fine Arts in Threatre Arts from Brandeis University. She currently resides in Los Angeles.