---
MARY POPPINS


DET NY TEATER, Sunday Sunday 21. February 2010

CAST:

MARY POPPINS: Charlotte Guldberg
BERT: Kristian Studsgaard
GEROGE BANKS: Morten Staugaard
WINIFRED BANKS: Christiane Gjellerup Koch
JANE BANKS: Clara Rugaard-Larsen
MICHAEL BANKS: Carl Philip Levin
MISS ANDREW: Marianne Mortensen
BIRD LADY: Ulla Sell
MRS: BRILL: Birgitte Bruun
ROBERTSON AY: Kim H. Henriksen
BANK CHIEF: Michael Lindvad
NELEUS: Henrik Lund
MR. NORTHBROOK: Johannes Nymark
MISS LARK: Marie Bo

+ general roles



First, let me admit I'm a total newbie when it comes to Mary Poppins. I've never seen the musical before, I'm not even sure I've seen the movie in full. I knew the very basics of the plot, but in general I went into the theatre with no idea of what to expect.


What met us when we entered the auditorium was a beautiful stage curtain (or whatever to call it), showing London's skyline, a gigantic moon with the shadow of Mary Poppins randomly passing by, glittering stars, and a sort of false proscenium of stars and chimneys. There was also an ornamental fence between orchestra pit and stage. Visually gorgeous and also fairytale-looking.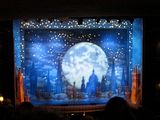 ACT 1:

The transition from before-show look and to the first scene was beautiful, cause suddenly frozen shadows of chimney sweepers appeared in the background, by the change of the lighting (an effect which was used several places, and I likd it a lot). Enter "Chim-chim-cheere". Bert (Kristian Studsgaard) came off as a bit anonymus, I would have liked for him to be more enigmatic of have a more defined interpretation, but I liked the actual scene.

The Cherry tree lane set was less impressive than the opening, with a too-small looking living room and an entrance door which was rolled on stage only when it was needed. I complained to Josefine that the set looked badly painted. She pointed out that it was probably to mimick illustrations in old English children books, in a slightly naïve style, and I liked it a bit better. But my second beef with the set was that it took so long time to get it in position on stage. Especially the scene changes between living room and nursery took forever, and honestly most of the scenes didn't need the actual nursery. It would benefitted from only introducing beds, some toys and maybe a shelf, without the whole "lowering a big room in place". Would have saved us some "oh no, we have to wait for the nursery" moments. This bugged me a lot, but I won't comment it in the rest of this review...

I usually loathe children in musicals. I'm sorry for being so heartless, but... I really do. To my big surprise I found the Bank kids to be genuinely good. All the places I expected them to either squeek out notes or offer sub-par acting, I found myself very impressed. Especially in the acting department, but the singing was also first-rate. They have three Janes and three Michaels, and if all of them is on the level of those I saw, they've scored big time when casting!

The parents were played by Morten Staugaard and Christiane Gjellerup Koch. I've seen Staugaard previously, as a très goofy Monsieur André in "Phantom of the Opera" and a most impressive Javert in "Les Misèrables". He always delivers, so also here. But there's a "but". I found the parent characters to be quite unnecessary in most of the musical. Sure, they have to be there, especially the father. But I felt they didn't really need the solo songs and the fleshing-out of the characters, because they seem underwritten and two-dimentional. With the musical being as long as it is (3 hours), I know what I would cut if I were allowed to... That said, Staugaard and Koch were good. They just didn't have much to act on.

Enters Mary Poppins (Charlotte Guldberg). On a glittering cloud. Awesome. And boy, have they picked the perfect actress for the role. Her posture, her movements, her voice, her dancing, her face... She's just so.... right! A light, well-trained soprano and a kind of eerie, but gentle appearance was a nice combination, and although I won't claim she stole all the scenes she definitely came off as the main person whenever she was on stage. Haven't seen her in anything before (Josefine saw her as Maria in "Sound of Music", I think), but I was most impressed. Practically perfect! Which, by the way, was one of the songs I really liked. Didn't hurt that she throughout the show had the best songs and the best punchlines either.

Speaking of which... My biggest beef with "Mary Poppins the Musical" is that I didn't find the score all that strong. The "Chim-chim-cheere" tune is nice, "Practically perfect" very catchy, and "Supercalifragilisticexpialidocious" entertaining. But the score overall seems generic and in lack of the true show-stoppers. That's not to say it's bad, but "Mary Poppins" could have been a radically much better musical if the score was stronger. That's at least how it appeared to me, as a newbie to "Mary Poppins" but a big lover of musicals in general.

Anyway... The park scene where the Neleus statue comes alive (Jolly holiday) was fab. First, I didn't know the statue was to come alive, so I felt a childish moment of glee and joy when it happened. Very well executed. In general the "fantasy" parts of this production was darn impressive, both in actual design and in execution. Lush, delicate, jolly, with some seriously good choreography. I wanted to run on stage and join them!

Jumping to "Supercalifragilisticexpialidocious" (or Superfantafænomænagenialilistisk). A cool ensemble number, cause it involved a lot of in-sync choreography and posters with letters, and the fun part was actually to watch if everyone managed to do what they should in time. They did.

My I-love-to-hate-that-guy Kim Henriksen played the part of Robertson Ay, the Bank family's man servant. In this musical I got a glimpse of how well he can actually sing. After having ruined Bank's kitchen and gotten "A spoonful of sugar" he suddenly sung like a tenor hero, and his voice was actually impressive and VERY different from the nasal charicature approach he has to every role he does. Why don't he sing like that all the time? I think I might would have liked him (except he would probably keep overacting...). That said, this was a role he COULD overact in without ruining anything.

But let's talk about the fun part! "Temper, temper"!! As in WOW! How on earth could this be cut from the West End/Broadway counterparts? It gave me goosebumps and was awesome to watch. The toys coming alive was awesomeness, especially a creepy female doll stepping forward to accuse the children. And the way everyone kept repeating "Temper, temper" (or rather "Rolig. rolig") was dead cool. What an end to the first act!


ACT 2:

If act 1 ended with a bang, the opening of act 2 was just as cool. Enters Miss Andrews! Nanny from hell, dressed in a black costume with a feather hat giving her devils horns from certain angles (can be seen in the link underneath). Although I didn't find the actual song "Brimstone and treacle" (Levertran virker) too memorable, she sung it to perfection, flunging out soaring high notes up and down the stairs and whatnot. I'm tempted to call it a showstopper.

When I though the scene was as cool as it got, Mary Poppins came back and had a helluva cat fight with Miss Andrews. Luuuuuved it.

With Mary and the children moving up to the rooftop I realized that totally unnecessary dance numbers can be lotsa fun. The chimney sweeper step number was entertaining, and again I loved the choreography. My friend Knut didn't care much for this number, however, so maybe it was just me being in the mood after the catfight awesomeness.

Should mention that the bank scene had a cool design, with only soem columns and chandeliers towards a dark backdrop. Minimalistic without looking cheap, and allowed a super rapid scene change. I wish they would have done something similar for the nursery set!

The rapid change in Mr. Banks character seemed forced, and the big-happy-family part was a bit watever. I think it's related to me finding the parent characters underwritten in general, and that I just don't care about their suddenly change in character. But ah well.

What more? Oh, of course... The end with the family watching the universe, stars, moons, planets and whatnot, was droolable. I have no idea how this was designed in the original, but I still dare say the Copenhagen counterpart must be just as impressive in the grand finale.

No, wait... The grand finale was actually Mary Poppins leaving, after kissing Bert on the cheek (am I the only one finding hints of a romance between them unnecessary?). She simply flew out in the auditorium, taking a (flying) turn by the first balcony, before flying up to the upper balcony and vanishing. The children in front of me gasped. Cool, very cool.

(and the reason why I mention so few songs in the second act is that many of them are reprises of songs)


So... did I like it? A lot!
Would I go to Copenhagen to see it again? Probably not.
Would I see it if it played in another city I visited? Definitely.
Is it on my top 10 list of musicals? Erm... neeeh, I don't think so. But very close.
Was the Copenhagen production good? It was actually awesome.
Will I have to rethink my opinion on children in musicals? I think I do.
Should "Temper, temper" be mandatory? YES!


Various costume sketches from Copenhagen here:
http://www.detnyteater.dk/forestillinge ... /synopsis/